Dear All,
We are in the Middle of a massive public health crisis and unlike the first wave, this has hit you, me and our families this time.

Not a Single day goes without someone known, someone close reaching out for Help, with urgent asks, that we are sometimes unable to provide.
Still, we have to keep trying and keep remaining safe, by being Extra vigilant.
As AGL we have initiated our Support Group to p rovide help to our people in form of Advice, Help with Medication and providing Hospital information.
We have also identified two main support lines for all of you:
A Pool of few Oxygen Concentrators to be procured and Kept in AGL for the Usage of Immediate Family Members in case of Need. (though we will pray no-one ever needs it).
We should have them by 10th May.

A Corporate Vaccination Plan to get you all and your Spouses vaccinated by May End and do that safely.

AGL will bear this cost and will take care of logistics for the same across all offices of ours.

Till that happens, we need to take extra care of ourselves, and not only keep safe from Covid, but its impact on Mental Health too.
It is a scientifically proven fact that a positive mindset keeps the body's immunity better. In lack of medicines or vaccines, our natural immunity may be our first line of defence that we need to shore up.
I am no expert, but a few things that worked for me:
Read books, Play with your Kids, Sketch and Cook. Do something that is Constructive.

Binge watching your favorite Web Series on NetFlix/OTT is NOT a hobby or it doesn't help in the long run.
Reduce your Mobile Screen Time

Pick up an existing or a new hobby, that you can spend hours/days. It gives a sense of Target and your working towards it and achieving it provides the requisite kick to your brain to make you feel better

Create a Routine - though we will not be going to Office, and it may mean that our daily routine can go for a toss. This can make us feel lost in our mind.

Also, a routine will fool your brain into thinking that life is predictable. That settles it down a great bit.

Video Calls with Parents, in case you live away from them. Seeing them well, soothes your nerves like nothing else does

Once things settle down a bit, plan once a while meetups with Friends/Families in Open Surroundings. We are social animals, and our need to meet and connect with people we like can't ever be satiated with VCs.

If nothing else is working - seek help. Talk to family and friends or even approach professional Medical help. These are tough times and even the bravests and toughest need help sometimes. Its Okay to call for help.
These are just some of the things you can do to keep yourself
relatively better off mentally.
My best wishes are with you all and I am praying as much as you
all for this phase to get over soon.
Stay safe. Stay sane.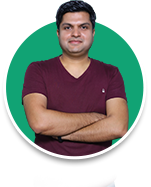 Rakesh Yadav
Founder & CEO