The most challenging times bring the most empowering lessons.
While we are still sailing through the effects of COVID-19 and seeing the impact grow closer in our environment, there are a few lessons that the pandemic has yielded.

Prevention is Power
From what we eat to how we maintain our hygiene has taken a focal point in our lives today and has redesigned our habits in a big way.
Our Minds Matter
While COVID-19 has prompted new worries, it has also made us slow down and be mindful of things and people who really matter in our lives and to be around them in all times .Just dropping a note with a simple Hello and asking for well-being has become a gesture of staying in touch.
De-Stressing is important
Despite the frustration of being confined at home and working from home, a destressing routine or activity like Yoga, meditation or learning any life skill make us recharge our health batteries and cope with the mental hardships we are going through these times.
Together we are a team
The pandemic has brought everyone closer as a single unit not just as a family but also as a work unit. Helping each other in whatever smallest way possible has brought so much connectedness despite sitting remotely.
Talking in the specific context of our AGL Family, there has been so much connectedness across functions beyond work in recent times that is quite exemplary and defines the core values that we stand upon. From sharing information around OC's to bed availability to medicine procurements, helping each other has been the core idea of everyone.
With initiatives like Pharmacy discounts, Procurement of Oxygen Concentrators for Employees, cab facilities to help employees stuck away from hometowns to reach safely, Elder care with EMOHA, initiating corporate tie-ups for vaccination Drive, Meditation and healing sessions AGL's leadership has taken all ways and initiatives to support the teams.
While we still await the ultimate outcome and diminishing effects of COVID-19, certainly it has made us realize that we become stronger when we act together. The lessons that we learn and the positive choices that we make for ourselves and society at large will all contribute in making a meaningful difference tomorrow.
Let's all make our contribution for a better tomorrow!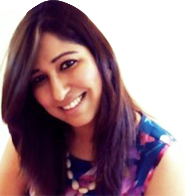 Jyoti Sarwan

Senior Manager- HR