The first thing that comes to mind when you talk about "services" is the innumerable calls one gets from day to day from someone offering one service or another. How many times can you actually recall being interested in such "services" where you ended up talking to them? For the decision-makers of any organisation, such calls are more often than not a huge turn-off.
The same holds true for marketing agencies. To help clients achieve their marketing goals, agencies need to be able to provide value that helps brands grow rather than confining themselves to being services providers.
Service Vs Solution
With expansive internet integration, many brands today research diligently while looking for a marketing partner for a particular 'service' or project they need taking care of. However, what they fail to understand is that a service is like a resource that can support certain business functions and have a rather limited scope.
In order to harness the collective knowledge and experience of marketing experts, a brand needs the 'value-add' offered by a solutions provider. It is true that services lead to solutions, but measurable business value and operational excellence can only be facilitated through integrated, custom-built solutions.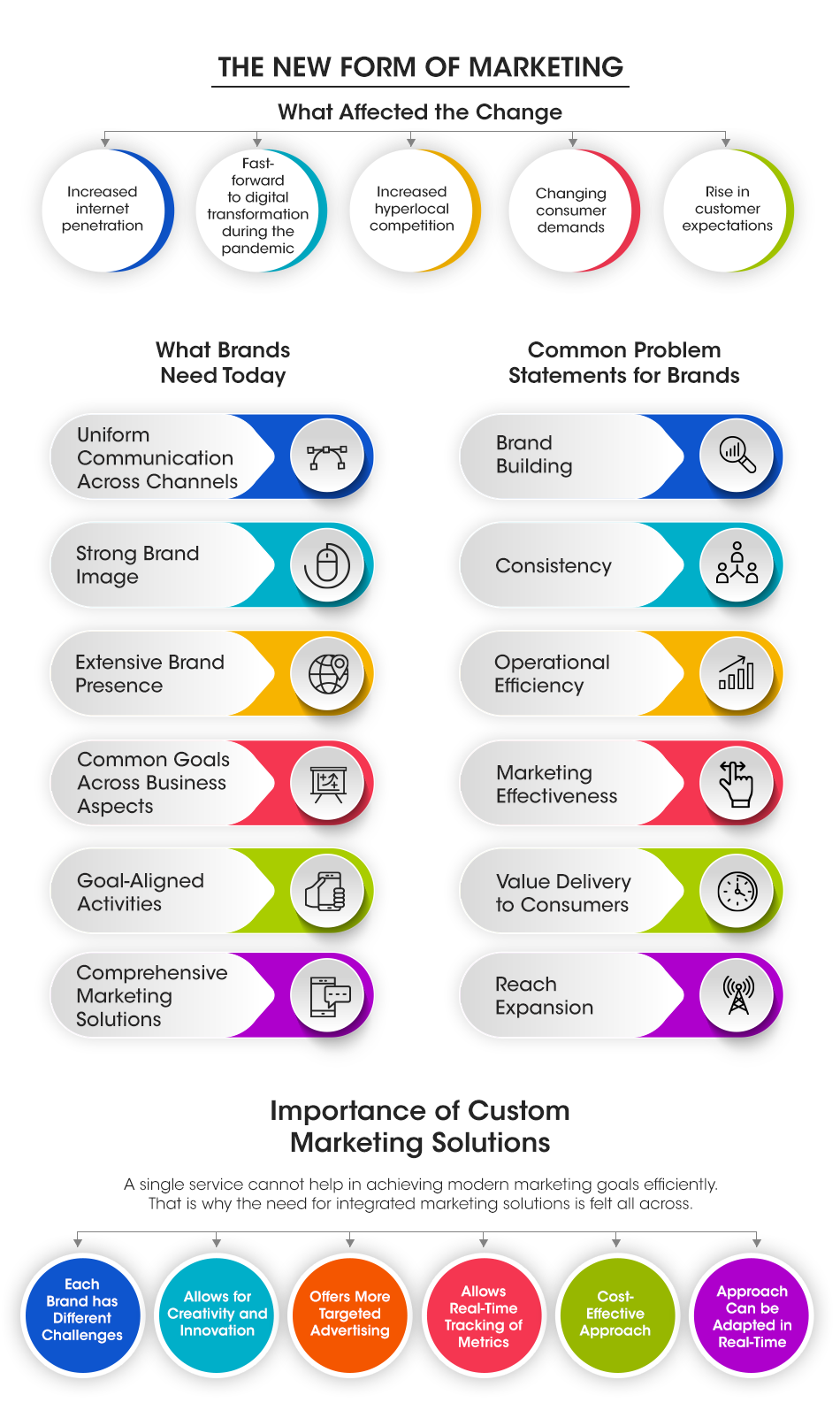 A major drawback of the service-based approach is the limited parameters and offerings they come with – to put it simply, marketing should never have a one-size-fits-all approach. The belief that a particular service will benefit all brands alike is archaic at best. The different brands in question may not be from the same industry, the amount of capital and target audience will be different, and so would be the marketing goals and challenges. Even then, the digital marketplace is a dynamic landscape with which the static offerings of services can hardly keep up.
While services are designed to tackle a single challenge that a brand faces, solutions are designed to take on expansive business challenges. The specialised focus of a service can only deliver results that are limited to its scope of action, while the multi-pronged approach offered by comprehensive marketing solutions can bring out significant improvements across operations.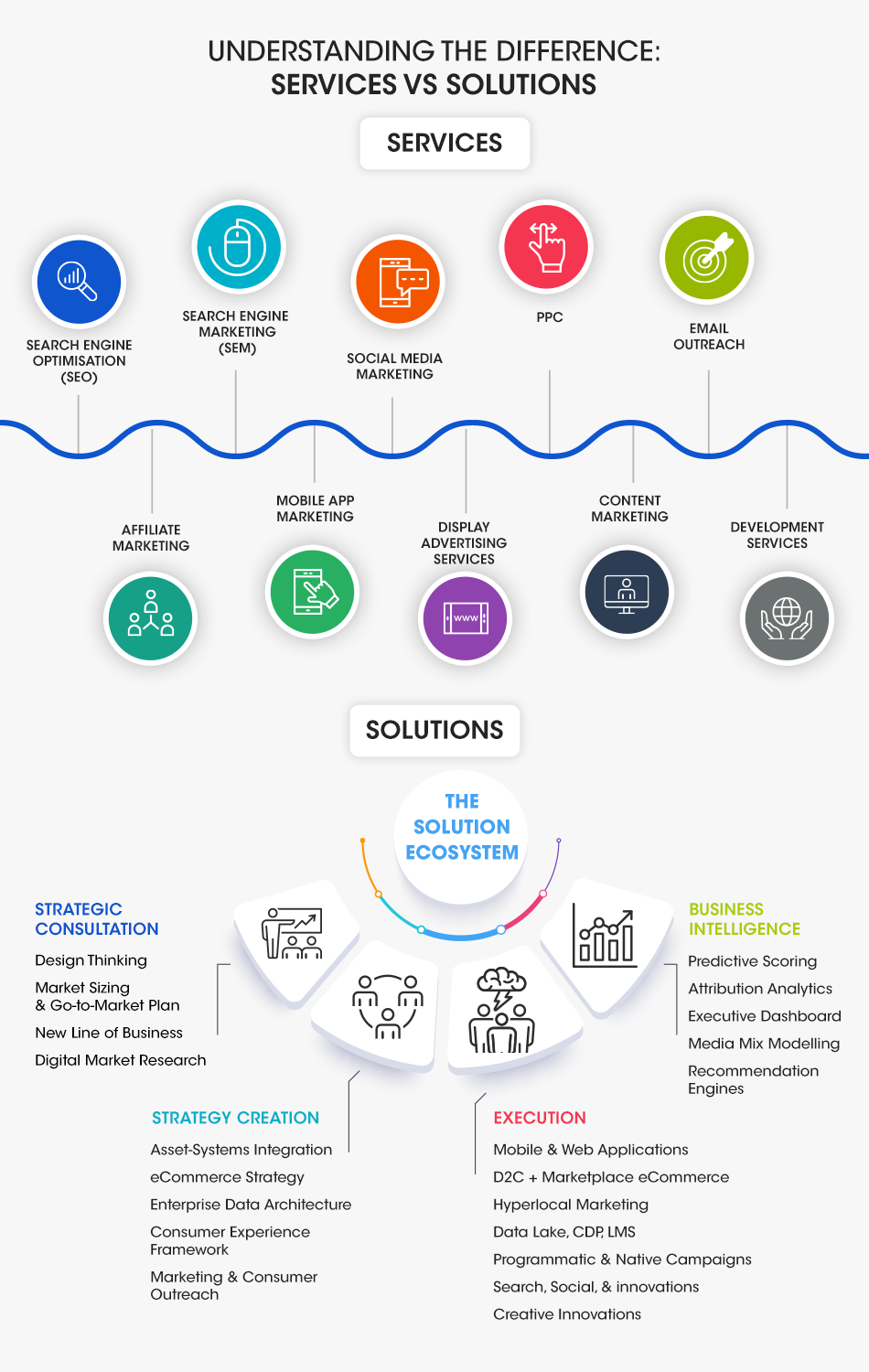 Modern brands have clear business objectives along with demarcating problems that need to be solved. That is why the solutions being provided should have a business-led approach for addressing the problem statement.
Brands are on the lookout for 'marketing solutions' to help with challenges like expanding their reach, affecting digital transformation, optimising their customer journey, programmatic advertising strategy creation, etc.
Partners in Providing Solutions
Solution providers have one focus and that is about adding value for brands, enabling and fostering their growth and success. The creation of solutions is a highly personalised approach that focuses on problem-solving, which in its own way, automatically aligns with customer value.
It is no longer about providing a single service that a client believes their brand needs, but about identifying the problem statement, challenges, and goals of a brand. Only then does it come to devising a customised game plan to successfully navigate the road ahead.
The solutions-based model of marketing is an ever-evolving process that follows a holistic approach, deploying multiple services at the right time, analysing and adapting their utilisation, in order to help brands successfully meet their business objectives.
AdGlobal360: Delivering Value Across the Industry Spectrum
Unlike the traditional marketing approach of providing marketing services, AdGlobal360 does not believe in a client-agency relationship, but in being partners with brands, working together towards the same goals. We work closely with our partner brands to understand their business, identify the marketing challenges they face, and build custom solutions that ensure optimum results, thus becoming a catalyst in their journey towards achieving their business goals.
It's an approach that's born out of being strategic in all things marketing, and a mindset through which we add value to our clients' businesses. If you want your marketing efforts to be holistic, customised and solution-driven, then we'll be more than happy to discuss it over coffee.
---
Varun has over a decade of experience in setting up digital growth roadmaps for various brands across different industries with unbeatable precision. While Automobile is his focus area, he also dabbles in Education, Realty, BFSI and Multinational NGOs. He manages our practice in South India as well.